RuBronyCon is the largest and the oldest Russian MLP convention held in Moscow annually since 2011 and gathering My Little Pony: Friendship is Magic fans across Russia, CIS, and Eastern Europe.
For any kind of guests it features expansive entertainment program, including cosplay and vocal contests, games, workshops and masterclasses, panels with voice actors, community guests and many other different activities.
The first day was the pre-party day. It was held in a concert club and was reserved for brony music collectives and who performs their own music and songs. Many famous Russian brony artists performed there: «Gryphon Rush», «Brony Koni», «Przewalski's Ponies», «White Alicorn», «Radial Rainbow», «Pony Tones».
More photos here.
The main event day was held in Sokolniki Expo Center. It's a great venue for a lot of pony fans and a lot of ponies!
More photos here.
We decided not to make a booth for Sweetie Bot Project alone, but for anyone who is busy creating his own electronics or tech project. Our booth named "Electrobrony" was aimed to unite all who loves technology and is engaged in hobby electronics. Anypony could show his own project at our table.
More photos here.
It was the first experience in creating the booth for us. Despite this, there were many people who agreed to help us to organize the techno table at RuBronyCon.
There were a lot of projects at our booth: Quadcopters, 3d printer, acrylights, floppy music device, homemade electric bike, electric guitar, tesla coil and many others.
Also it was the first time when we showed Sweetie in public.
Her shiny eyes and unique cute look definitely attracted everyone's attention.
At that time, she could not make complex movements yet, but everyone can control her eyes and head with a gamepad.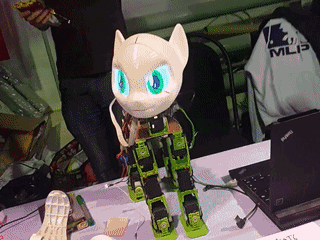 We made a project presentation at the conference hall. Check it out: